The Mayfly Newsletter
---
Official Web Site of the
Permanent Committee of the International Conferences on Ephemeroptera
---

The Mayfly Newsletter (ISSN 1091-4935) is the official newsletter of the Permanent Committee of the International Conferences on Ephemeroptera and is published to facilitate communication among ephemeropterists.
Its first volume was published 1990, and from then on long-time editor Peter Grant (Southwestern Oklahoma State University) updated ephemeropterists around the globe more than 25 years with useful information on mayflies and the mayfly community itself!
Pete was the founding editor and kept the Newsletter going for an amazing 25+ years... The mayfly community owes Pete a big "Thank You" for so many years of service.
From this year on, Donna Giberson (University of Prince Edward Island, Canada) has taken over the responsibility as editor-in-chief, and from now on the Mayfly Newsletter will also be available online here on Ephemeroptera Galactica.
So check out the latest issue and download the pdf here: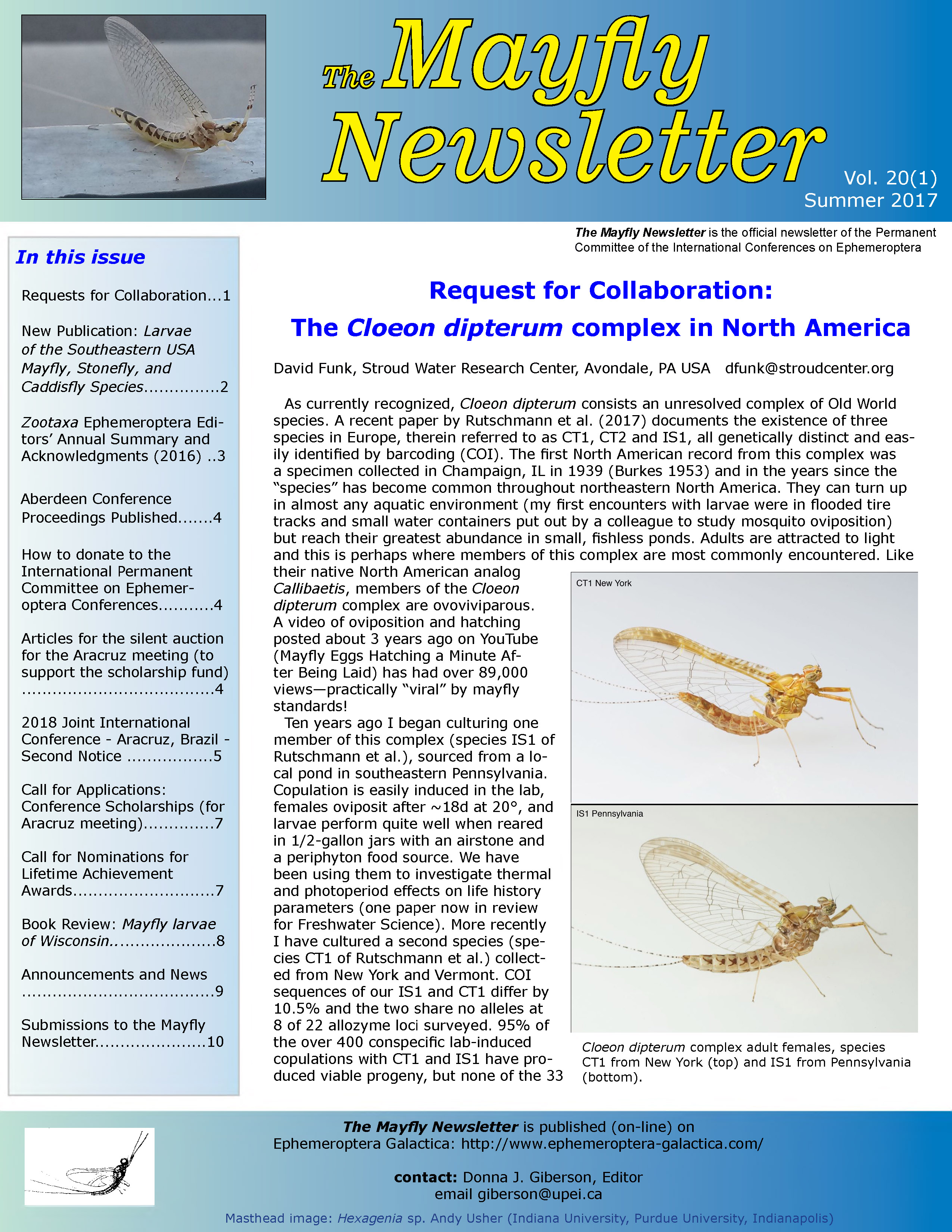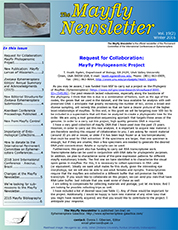 All back issues are also available for download here at SWOSU Commons!
Get more insight into the mayfly community and subscribe to the Mayfly Newsletter. Subscriptions to the newsletter are free. To place your name on the e-mailing list or to contribute information for the next issue, contact:

Dr. Donna Giberson
The Mayfly Newsletter
Department of Biology, University of Prince Edward Island
Charlottetown, PE Canada C1A 4P3
Updated 20 April 2017
---
The Mayfly Virtual Library has also a new update! Contributions from others are also greatly appreciated and absolutely vital to keep it up-to-date. So please forward some pdfs to this site...
---
---
Updated 20 April 2017
Patronyms of Mayfly Workers, compiled by Michel Sartori & Luke Jacobus
---
Page contents last modified on 12 September 2014
---